When tradition, experience and the desire of creation meet the evolution of technology, the result is a new venture: the Marti Gioiello online store.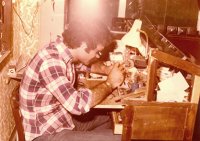 In 1963, when my father, a child at the time, working in a large goldsmith's shop, made his first piece of jewelry. Since then, gaining knowledge, experience, but mainly having the required taste, he dedicated himself to the construction and sale of his creations. All this "inheritance" passed into the hands of my brother, who for 35 years is exclusively engaged in the manufacture of jewelry, and to me, who in 2007 founded my first store in Eastern Thessaloniki.
I wish all this support and love that I receive every day from old and new customers to embrace my new e-shop.
Without compromising on quality, perfect construction and competitive prices, my primary commitment is your prompt service.
Yours sincerely,
Antigone Marti